Alaska 2004
June 29 - Day 1 (Under Construction)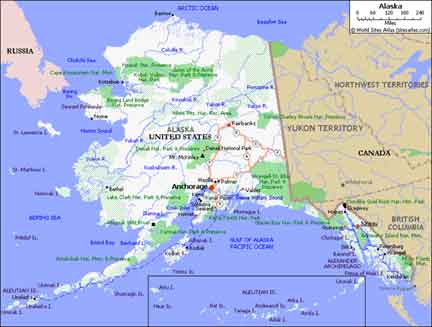 THE ADVENTURE TOUR!
For Summer vacation 2004, we wanted to see what we could of Alaska in 7 or 8 days. After looking at many different ways to approach this trip, Adventure Alaska Tours appeared to offer exactly what we were looking for. They offer small group tours and travel packages from "sightseeing to wildlife to wilderness trips." Tour itineraries are from 5-16 days and "feature Alaska, the Yukon, Arctic, Inside Passage, and Kenai, as well as Denali, Glacier Bay, Kenai Fjords and Wrangell-St. Elias National Parks." We chose the All Alaska Circuit - a trip of 7 days and 6 nights. This trip offered a "cross section" of Alaska in an "off the beaten track" format. If you really don't want to do all the planning necessary to see and experience Alaska yourself and you want to travel with a small group (no more than 10 total) and a knowledgeable, safe, respectful, personable guide, Adventure Alaska (click here) is your ticket.
Click on thumbnails for larger view:

First day in Alaska! After checking into the B & B, we walked downtown to the visitors center.



Anchorage is a nice 'walking' (and biking) city.


Please sign the Guestbook. If you have any questions, comments, observations, I would love to hear from you. Email me: backpackingtexan@yahoo.com


Return to Alaska Start page. Ahead to Day 2 . Return to Homepage.



View My Guestbook
Sign My Guestbook