Alaska 2004
June 30 - Day 2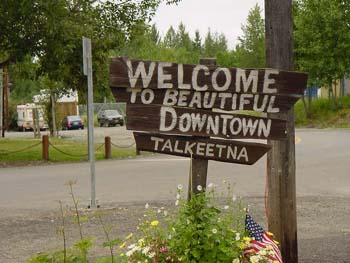 THE ADVENTURE TOUR!
We had a really restful night at the Susitna Place B & B. Breakfast was more than ample as were the views of Cook Inlet and the mountains. This place was wonderful! We met 4 of our travelling companions at breakfast. The van arrived at 8am. We made one stop several blocks away to pickup 4 more "adventurers". The 10 of us, plus Patrick the world's best guide, driver, storyteller, trip-planner, headed north. Before leaving Anchorage, we made a brief stop at Earthquake Park and quick tour of the Lake Hood Seaplane base - world's largest. Next was a quick stop in Wasilla at the headquarters for the 1000 mile Iditarod Sled Dog Race. Adventure Alaska (click here) is your ticket.
Click on thumbnails for larger view:

Debra (left) with Betsy, Rose, and Lily in front of Susitna Place B & B.



First stop at Earthquake Park. The 1964 Good Friday earthquake was the biggest ever in North America, registering at 9.2 on the Richter Scale, killing 131 people, and flattening much of the region.


Downtown Anchorage and the Turnagain residential area, near the park, suffered enormous slides that turned neighborhoods into chaotic ruins. A sculpture and excellent interpretive signs commemorate and explain the event, but you can't see much through the trees that have grown up since the quake.


If you are up for a scramble, descend into the park itself, where you can still climb over the strange topography of hummocks and small ponds that were created when the ground went liquid. This also is a good access point to the Coastal Trail.


30 miles north of Anchorage we took a short detour to Eklutna. Eklutna is the oldest continually inhabited Athabascan site in the Anchorage vicinity. The Eklutna Cemetery holds the colorful and decorated "Spirit Houses" over the grave of a deceased relative. This custom comes from the melding of Athabascan and Russian Orthodox beliefs and practices.


Wildlife! Someone in the van spotted these two moose several hundred feet off the Parks highway.


Debra on sled at Iditarod Headquarters in Wasilla.



Lily - about to take a dogsled (on wheels!) ride.


One of the dogs.



Here they come!



Deb going into the Talkeetna Ranger Station. Mountaineers and visitors may stop by the station to obtain information about climbing in the Alaska Range. Climbers must register 60 days in advance of their climb and pay a $150.00 fee for climbing Mt. McKinley or Mt. Foraker. Restrooms are available in the station.


Please sign the Guestbook. If you have any questions, comments, observations, I would love to hear from you. Email me: backpackingtexan@yahoo.com


Ahead to Day 3 . Return to Day 1 . Return to Alaska Start page. Return to Homepage.



View My Guestbook
Sign My Guestbook