Alaska 2004
July 1 - Day 3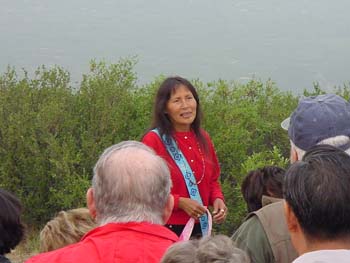 THE ADVENTURE TOUR! DENALI NATIONAL PARK
This morning we are taking The Natural History Tour. We boarded the bus for an approx. 4-hour tour along the Park Road to Primrose Ridge. Denali National Park & Preserve features North America's highest mountain, 20,320-foot tall Mount McKinley. The Alaska Range also includes countless other spectacular mountains and many large glaciers. Denali's more than 6 million acres also encompass a complete sub-arctic eco-system with large mammals such as grizzly bears, wolves, Dall sheep, and moose. Unfortunately, due to heavy smoke from forest fires, we saw no large wildlife.

After lunch, we headed for Tangle River Inn along the Denali Highway. The Denali Highway runs 135 miles East-West, begins at Paxson and ends a bit south of Denali National Park, in Central Alaska. It used to be the only access road to Denali National Park before the opening of the George Parks Highway. Nowadays, it is almost entirely a gravel road that can be rough at times, although any vehicle can make it. Drivers are rewarded with spectacular open scenery of alpine tundra, kettle lakes, large distant glaciers and wide braided rivers.
Click on thumbnails for larger view:

Denali - Mile 17 -- Rest stop before visiting the Savage Cabin.



Denali - Fireweed is usually found in woodland areas that have been cleared or burned off. Very striking plant especially enmass.



Savage Cabin is a rustic shelter just off the park road. This backcountry cabin has been used for decades by rangers conducting winter park patrols.



Smoke from many forest fires almost block out the sun. We will see no wildlife today.



In summer, Savage Cabin serves as a place where visitors can travel back in time and hear the words of early park advocates, staff, and settlers. (Deb with docent).



Alaska Native interpretive program. Mile 29 -- An hour and 10 minutes into the drive, a large rest stop overlooks the Teklanika River, with flush toilets, the last plumbing until the Eielson Visitor Center. This Athabaskan woman gives the tourists a brief talk on native culture.



Somewhere between Denali and Cantwell is this unbelievably large beaver den.


Beaver den.



About 51 miles from Cantwell on the Denali Highway, we encountered a slight reminder of civilization in the form of a remote inn called the Gracious House. Rooms and even showers could be rented here to those unaccustomed to "roughing it." Nearby, a trailer called The Sluice Box served as a bar, the likely nighttime hangout for miners working the local Valdez Creek Mine.


Getting firewood for the winter.



Tangle River Inn was established in 1970, and has rooms and cabins available for individuals and tour groups. Tangle River Inn Cafe opens at 7 each morning, and features home-style meals and daily specials. Located on the pavement at Mile 20, Denali Highway. If you end up on gravel, you've gone too far! Tangle River Inn



Jack and his wife Naidine built the Tangle River Inn 30 years ago, and have been constantly improving and expanding it since that time. Jack handles the mechanical end, and Naidine and her staff keep visitors coming back for more of their unique brand of Alaskan hospitality.



Swan Lane - rooms contain a double bed and a twin bed. $69.95 for double occupancy, and $79.95 for triple occupancy. Economy rooms share two full bathrooms.



The building where we spent the night. Comfortable.



Please sign the Guestbook. If you have any questions, comments, observations, I would love to hear from you. Email me: backpackingtexan@yahoo.com


Ahead to Day 4 . Back to Day 2 . Return to Alaska Start page. Return to Homepage.



View My Guestbook
Sign My Guestbook