Alaska 2004
July 3 - Day 5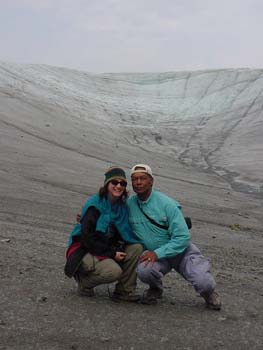 THE ADVENTURE TOUR! McCarthy, Kennicott Mine, and Root Glacier.
Last night, we had a really good dinner at the Historic McCarthy Lodge and a restful sleep at the Ma Johnson's Hotel. After breakfast, the shuttle took us to the Kennicott Mine. From the mine it was a short hike to the base of Root Glacier where those that wanted to climbed onto the glacier and cautiously walked along the surface. Very cool - literally!
The history of Kennicott began in 1900, when prospectors spotted a patch of green hillside that looked like good grazing ground for their pack horses. The grass, as fate would have it, turned out to be the green glint of copper ore. In 1998, the National Park Service acquired the Kennicott Mines National Historic Landmark, thus adding this important cultural resource to the Wrangell-St. Elias National Park.
One of the best days of the trip!
Click on thumbnails for larger view:

Early morning start. Patrick prepares group for hike to Kennicott Mine and Root Glacier.



Hail, hail, the gang's all here!



Kennicott Wilderness Guides is a Kennicott-based group of professional Alaskan mountaineers..



They lead Day Trips, Backpacking, Women's Programs, Ice Climbing, etc. Kennicott Wilderness Guides Website.


The centerpiece of the town is a massive 14-story mill building where copper ore was processed for shipment.



All of the equipment, furnishings, and buildings were left, and most are still here for you to marvel at and explore.



By the 1930's the high-grade ore played out, and when the Kennicott Copper Corporation pulled out in 1938, Kennicott became a ghost town overnight.



In 1986, Congress recognized Kennicott as a National Historic Landmark, and efforts were begun to stabilize and preserve the site.



Deb readies herself for the hike to Root Glacier - 8 miles round trip from Kennicott .



Deb and Betsy crossing Jumbo Creek, 2 miles north of Kennicott.



Deb coming upon the glacier after promising she had no interest in walking on the ice (dirty).


On the Root Glacier!!



"Alaska is a very big and very cool place."



One of the best short hikes ever!



From left, Patrick, Betsy, Ray, and Lee.



After the hike we 'chill' on Ma Johnson's porch and prepare for the trip to Valdez.



On the Richardson Highway between Glennallen and Valdez.



Worthington Glacier is an easy-off, easy-on stop at Mile 28 of the Richardson Highway northeast of Valdez.



Please sign the Guestbook. If you have any questions, comments, observations, I would love to hear from you. Email me: backpackingtexan@yahoo.com


Ahead to Day 6 . Back to Day 4 . Return to Alaska Start page. Return to Homepage.



View My Guestbook
Sign My Guestbook