Alaska 2004
July 5 - Day 7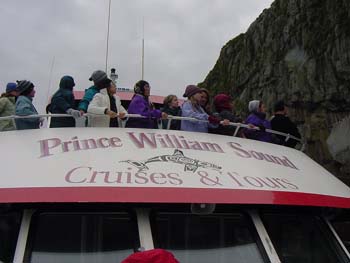 THE ADVENTURE TOUR! Gulf of Alaska - Kenai Fjords National Park
Another good night's sleep at Discovery Cabins. The gang slurped up Barbra's excellent breakfast at Discovery Cabins before heading to Seward to take a tour boat into the Gulf of Alaska. We took the 6-hour National Park Tour - Alaska's most popular wildlife and glacier cruise - FREE meal included!Patrick gave us a great tip: we should 'commandeer' a forward section of the boat with front-viewing windows. Our group was able to stay together throughout the trip - worked wonderfully!
Click on thumbnails for larger view:

Scene along the route - Hope to Seward.



Deb bundled against the chill.



One of many glaciers viewed on the tour.



Humpback whale "spouting".


The whale is heading directly for our stopped boat. It dove under 10 feet from the boat.



View of Aialik Glacier. The captain moved the boat as close as safety permitted, killed the engines, and we watched and listened to the glacier 'calve' for 20-30 minutes - AWESOME!



Beautiful shoreline and Puffin nesting site.



Calvin - I wish I had caught these halibut. Located at the head of Resurrection Bay, between the Kenai Fjords National Park and the western entrance of Prince William Sound, Seward, Alaska is a fisherman's paradise.


Debra with one of the REAL fishermen. The area's currents and bottom structure create a confluence of nutrient-rich water and unparalleled habitat for all species of fish and wildlife that frequent this part of Alaska.



Please sign the Guestbook. If you have any questions, comments, observations, I would love to hear from you. Email me: backpackingtexan@yahoo.com


Ahead to Day 8 . Back to Day 6 . Return to Alaska Start page. Return to Homepage.



View My Guestbook
Sign My Guestbook