Glacier National Park
June 28 - Day 1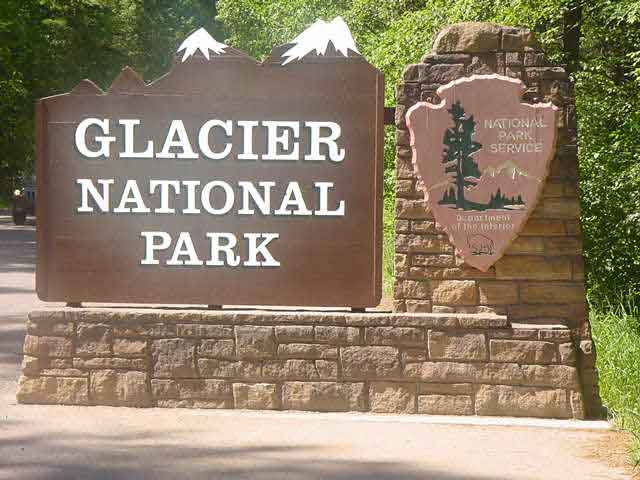 THE LODGE TOUR!
Five AM rise to get to Houston Intercontinental Airport. The Delta flight was delayed - "...inertia navigation system problem" the pilot said. All's well that ends well - we made our connection in Salt Lake City with minutes to spare!
The flight to Kalispell, Montana was uneventful. Picked up rental car got some groceries and headed toward the park. The views entering the park were magnificent!
Click on thumbnails for larger view: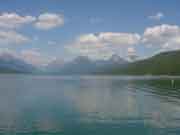 First stop was West Glacier Vistor's Center area. Got an ice cream and took in the views from the southwest end of Lake McDonald.


Continuing up the road, we were struck by the destructive power of numerous avalanches. Glad we were not here when the snow came barreling down.


Heaven's Peak (8987 feet) taken from one of the Going-to-the-Sun road turnouts.


There is a signed overlook for viewing Bird Woman Falls along the Going-to-the-Sun Highway (26.8 miles from West Glacier or 23.3 miles from St Mary). Bird Woman Falls tumbles down the side of Mr. Oberlin across the valley as a 450 foot cascade.


Weeping Wall is one of Glacier National Park's favorite sights. The water seeps out of little cracks over an expanse of some 300 feet of almost sheer, 30 foot high, rock wall.


Finally we arrive at Lake McDonald Lodge where we'll spend the night. Built in 1913 as a hunting lodge, Lake McDonald Lodge presents the same comfortable, homey atmosphere now as it did when originally built by John Lewis.


A total of 100 rooms are available through a combination of lodge, cottage and motel room accommodations. Facilities at the complex include Russell's Fireside Dining Room, Stockade Lounge, Jammer Joe's Grill & Pizzeria, gift shop and camp store.


Lake McDonald Lodge & Complex is located inside Glacier National Park on the Going-to-the-Sun Road, approximately eleven miles inside the west entrance to the park, which is located off of Highway 2 at West Glacier, Montana.


"Jammer" bus.


A Red Bus parking area near the lodge. The restored antique red buses are both a symbol of Glacier National Park and a reminder of a time when adventurous travel was done with style and grace. The vintage sedans are called "jammer buses" by the locals, a name, which carried over from the days when the buses had standard transmissions and the drivers could be heard "jammin" the gears as they drove up and down the rugged mountainous highway. Link to Glacier Park Tours red bus page.


Please sign the Guestbook. If you have any questions, comments, observations, I would love to hear from you. Email me: backpackingtexan@yahoo.com


Return to Glacier Start page. Ahead to Day 2 . Return to Homepage.



View My Guestbook
Sign My Guestbook