Waterton Lakes National Park - Prince of Wales Hotel
July 2 - Day 5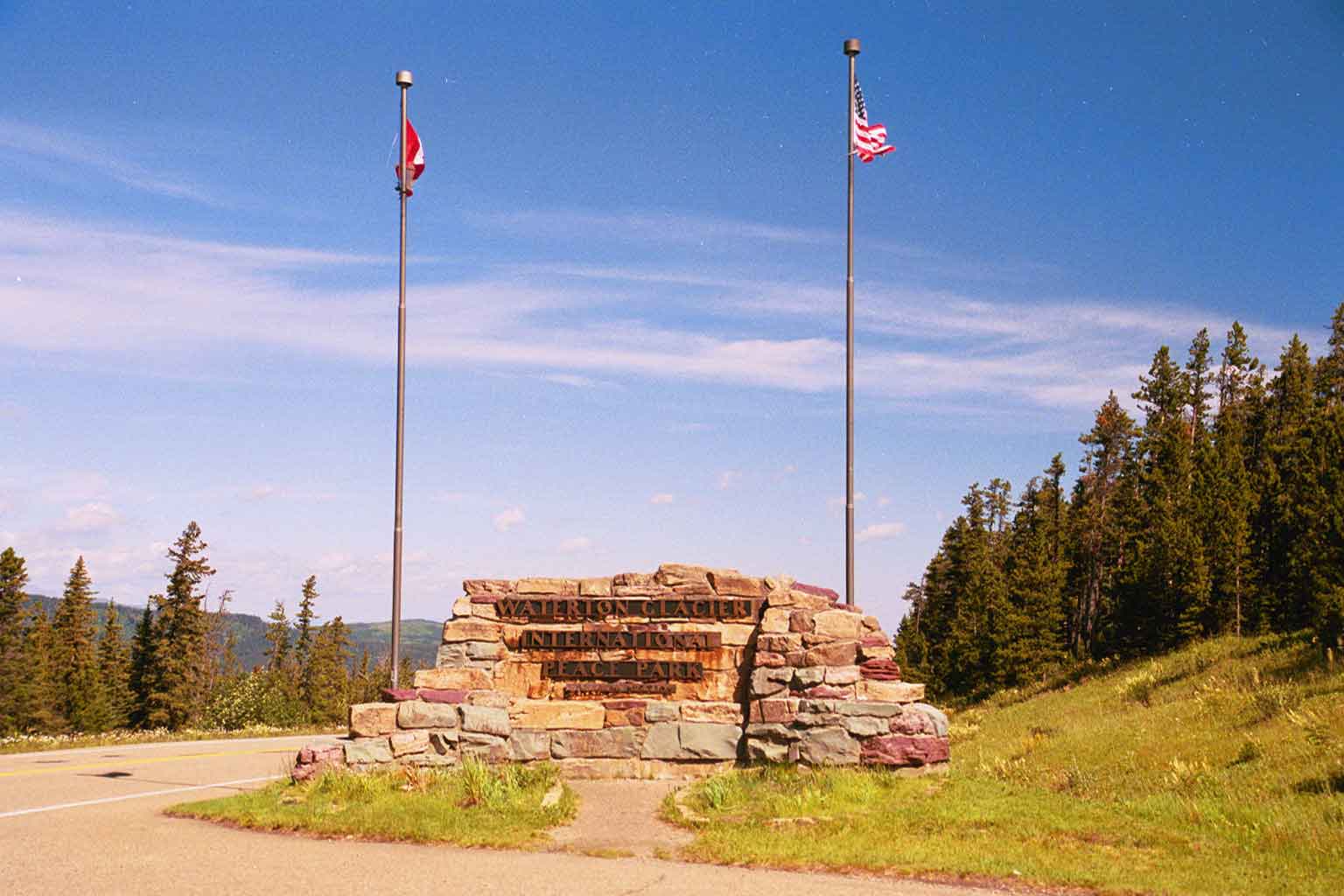 THE LODGE TOUR!
Awake again at 7. Decided to have breakfast in the room instead of the lodge dining room. We had grown tired of the bacon, eggs, pancakes, potatoes, waffles, biscuits, fruit, cereal, and pastries. So we had bananas and yogurt --- ??? What's wrong with this picture??? On the road at 10 heading for Waterton Lakes National Park in Alberta, Canada. Enjoyed the scenery so much, we missed our turn onto Chief Mountain International Highway and ended up at the customs checkpoint on the way to Cardston. Had to double-back 6 miles to the Chief highway -- after a little friendly questioning by a customs official:
Customs: "How long were you in Canada?"
Calvin: "We were never in Canada. Missed our turn and ended up here."
Click on thumbnails for larger view:

Beautiful views of Rockies including this shot of Chief Mountain.



Shortly, we were again at US/Canada border - this time at the right place. Had this little repartee with a tricky Canadian customs officer:
Border guard(BG):"Please remove your sunglasses, sir."
Calvin:[complies]
BG: "How long you spending in Canada?"
Calvin: "3 nights."
BG:"You have any liquor or firearms?"
Calvin:"No."
BG: "...cigarettes, fireworks?"
Calvin: "No."
BG: "So, you're staying 1 night?"
Calvin: "No, 3.".



"Approximately 3 miles into the park when, just in front of us, a mama Black bear crossed the road with 2 cubs. For a few seconds, we were frozen with excitement! Recovered, we both grabbed our cameras and snapped away.



After checking in at the Vistors' Center, we took a short, beautiful drive to Cameron Lake.



Took a 2-mile roundtrip hike along the shoreline that ended at this platform. Past this point is ideal bear habitat when the berries are ripe.



This view of Mount Custer was taken from the trail. Mt. Custer is in Montana - this is the Canadian view.



Prince of Wales Hotel is located in Waterton Lakes National Park, Alberta, Canada on the bluff above the lake and townsite of Waterton.



A touch of the old world marks the distinctive atmosphere of the Prince of Wales Hotel. It was built high on a bluff overlooking the lake and the townsite and opened on July 25, 1927. It is named for Great Britain's popular Prince Edward, the Prince of Wales. The British tradition is carried throughout the hotel, gift shop, dining room and tearoom. Its steep, sloping gabled roof is an area landmark and attracts many who consider a stay at The Prince of Wales an annual tradition. The romantic appeal of this historic hotel has made it a favorite for honeymooners for more than half a century.


Please sign the Guestbook. If you have any questions, comments, observations, I would love to hear from you. Email me: backpackingtexan@yahoo.com


Back to Day 4. Ahead to Day 6 . Return to Homepage.



View My Guestbook
Sign My Guestbook