Hike from Goat Haunt to Kootenai Lakes
July 4 - Day 7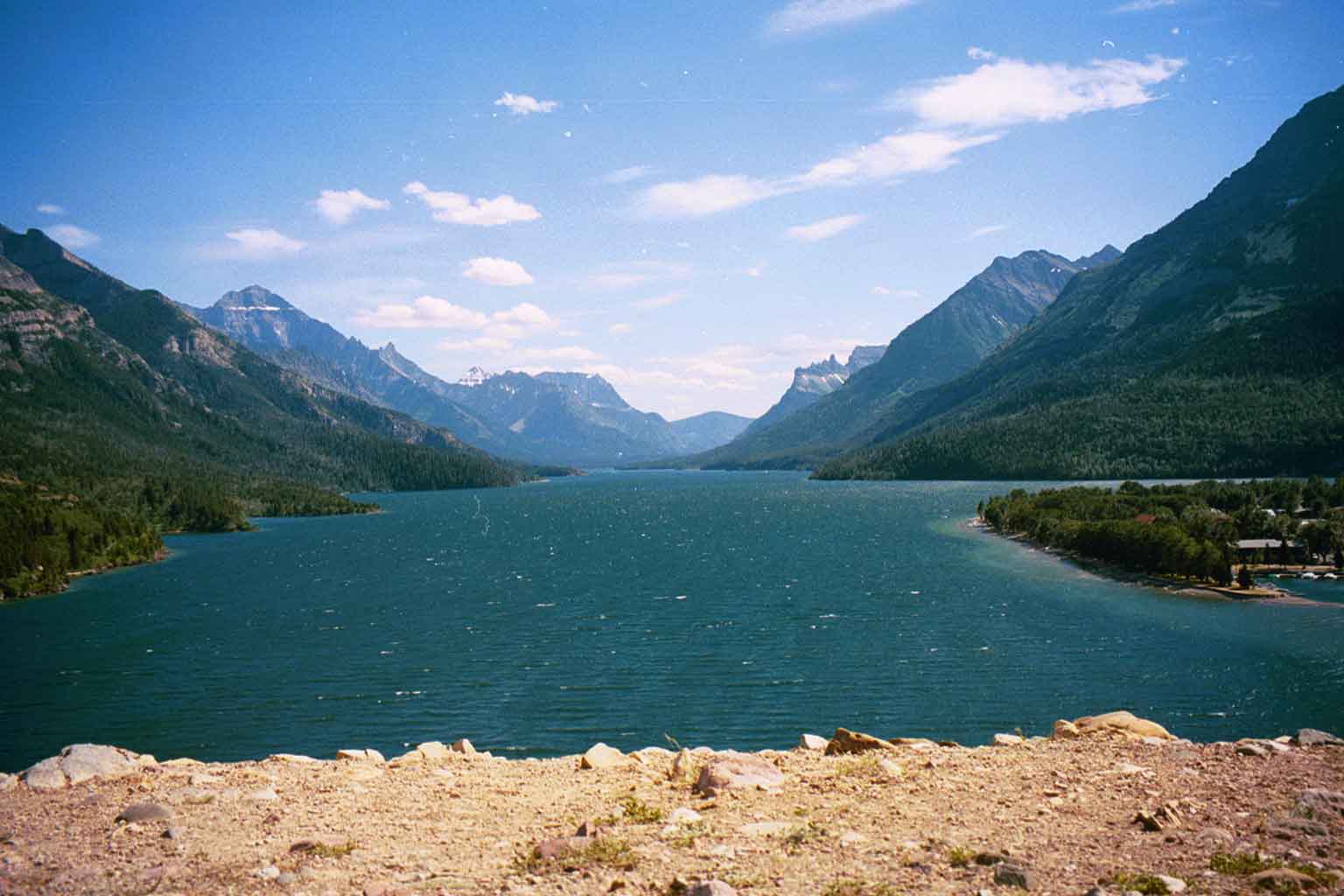 THE LODGE TOUR!
Small breakfast on the bed - bars, bananas, orange. Booked ticket on the International - a tour boat - for the 45-minute trip from Waterton to Goat Haunt - a ranger station at the US end of Upper Waterton Lake, the deepest lake in the Canadian Rockies - 440'+.

Picture at left taken from Prince of Wales Lodge looking at Upper Waterton Lake - carved by glacial activity. Waterton Township on the right. (Click for enlargement).
Click on thumbnails for larger view:

Boarded the historic 200 passenger "International" for the ride to Goat Haunt. The "International" has been in service since 1927.


After a brief meeting with the Goat Haunt ranger, we were on our way to Kootenai Lakes - and hopefully, moose sightings.



Can you spot the Ptarmigan we spotted on the trail? Ptarmigan, close relatives of forest and prairie grouse, live in alpine and arctic tundras throughout the northern hemisphere.



Someone is REALLY looking forward to seeing moose.



After the relatively short hike (2.5mi), we arrive at Kootenai Lakes. Shortly, another couple joined us.




What is this!? Can it be!? Yes! Yes! Moose!! Four of them.



One bull, three cows.


The bull didn't stick around for long. Within minutes of our arrival, he took off.



Time to return to catch the boat back to Waterton.



We're back at Goat Haunt.



Where the "International" is waiting for the short, and beautiful, ride back to Waterton Township.



Please sign the Guestbook. If you have any questions, comments, observations, I would love to hear from you. Email me: backpackingtexan@yahoo.com


Back to Day 6. Ahead to Day 8 . Return to Homepage.



View My Guestbook
Sign My Guestbook