October 31 - November 1, 2002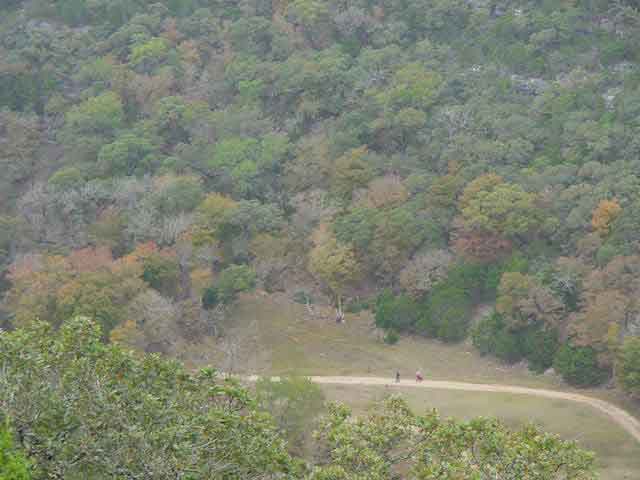 We took Thu/Fri off to make this trip a nice and easy 4-day weekend hop to the Texas hill country. Unfortunately, the steady, unabating rain cut the trip short - but not our enjoyment. Flooding in this area in July closed some facilities in the "Old Garner" section of the park. From the flat coastal plains of the Houston area, Garner State Park is a 4-5 hour trip along I-10. Get details at Garner website. Garner was to be our base for daytrips to Lost Maples State Natural Area and later to Enchanted Rock State Park. The steady rain knocked out the Enchanted Rock climb but the trip to Lost Maples via Ranch Road 337 was really beautiful!
Click on thumbnails for larger view:

Entrance to Garner State Park off FM 1050. Located thirty miles north of Uvalde and seven miles north of Con Can, Garner State Park has ten acres of riverfront. Our site was in the Persimmon Hill Camping Area - part of "New Garner." Sites 202, 204, 206, 208, and 210 are on a bluff with direct access to the Frio River.



These wild turkeys were just outside the park. They really took off as I approached to take pictures.


With tomorrow being the first day of deer hunting season, these birds will not be this exposed again for quite some time.


Entrance to Lost Maples State Natural Area. The drive from Garner along Ranch Road 337 is one of the most beautiful in the hill country.



Park headquarters. Lost Maples State Natural Area covers 2174.2 scenic acres in Bandera and Real Counties, north of Vanderpool on the Sabinal River.


The main attraction in this park is the fall color on the Bigtooth maple trees.



Unfortunately, this is not a good year for color.



Very interesting rock formation on the East Trail. Archaeological evidence shows that this area was used by prehistoric peoples at various times.



There is a website where the progression of fall color can be tracked. Reports begin in October at Link to Lost Maples fall foliage report.


The 1/4-mile "steep" area to the top of the plateau is a real thigh burner.



But, we make it and take in the beautiful valley below.



We'll be on that part of the trail soon.



A primitive campgroung borders this small pond which is formed by an earthen dam across Can Creek. Get details by clicking Lost Maples website.



Caught these axis deer on the return to Garner State Park.



They seem less wary than the white-tail deer.

email me: backpackingtexan@yahoo.com


Return to Homepage.



View My Guestbook
Sign My Guestbook